Here at I&G, we are first and foremost a precision engineering company, and we pride ourselves on our array of machinery that helps us to fulfil that status. Our shop floor is equipped with a range of CNC machinery that allows us to be versatile in the services that we offer, from producing top quality components for businesses in the aerospace industry, to creating surgically-precise instruments for the medical sector. For our clients, old and new, it's important to know how we do this, so we've put together an overview of our precision CNC machining equipment.
CNC Milling Machines
Let's get started with our latest investment, the Mazak VCN530C Smooth G CNC. This machine boasts the highest rate of productivity in this class of vertical machining, and comes with the unique Mazak thermal shield. The Mazak is perfect for a wide range of applications, and allows us to provide ultra-precise machining of difficult materials such as Titanium, Inconel Super Duplex and other nickel based alloys. 
Next up is our range of HAAS milling machines. Our HAAS VF-4SS is our go-to machine for larger machining spaces due to it's large XYZ travel space. This machine also has a 15 inch LCD monitor, allowing for complete digital monitoring of the processes. The HAAS MDC-500 is similar to the VF-4SS, but on a smaller scale with a pallet charger that is perfect for batch machining of smaller components.
Our HAAS VF range is a group of fantastic machines that are all highly customisable for many applications. The VF-0 has a small working area and is ideal for small batches and simple prototyping work, while the VF-3 is a larger machine that is known for its rigidity and ease of use. The VF-4 is slightly larger than the VF-3 and comes with the same features.
The HAAS Mini Mill 2 is a fantastic machine that yields the same reliability and efficiency as larger HAAS machines, but shrunk down a size. The Super Mini Mill takes up little space in the shop floor and provides a generous working area, perfect for on-the-fly machining. Both Mazak and HAAS are two of the leading providers of top quality CNC machines, which ensures that our milling services are precise and efficient at all times.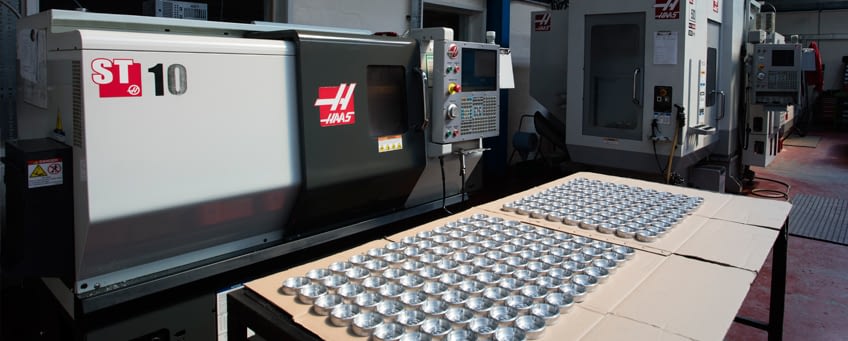 CNC Turning Machines
Our range of turning machines is dominated, yet again, by top quality HAAS machines. We have the ST-10 and ST-20 Turning Centres, both ideal for efficient and top quality turning. The ST-10 is more compact, while the ST-20 is designed for heavier cutting and high thermal stability. Our final HAAS machine is the TL-2 CNC Toolroom Lathe, which features a 400mm x 1000mm diameter working envelope for larger rollers and machining components for the food and beverage sector.
Alongside our HAAS lathes, we have an Emcoturn 242 TC8 Station Lathe that provides a 4,000 RPM spindle speed, a 3 jaw chuck and an 8 station turret. This machine has a high speed bar feeder, which makes it ideal for batch production. Finally, our Harrison Alpha Lathe is a reliable machine from one of the oldest CNC machine providers, making it ideal for ensuring top quality turning services.
How We Run Our Machines
We use three top quality CNC CAD/CAM systems to run our machining processes. EDGECAM provides us with the ability to program wire frame geometry or solid model component parts on a variety of tool configurations, from 2.5 axis milling to complex surface toolpaths on 3 to 5 axis milling stations. EDGECAM is our principal CAD/CAM system, seamlessly integrating 4 and 5 axis simultaneous machining and allowing a range of multi axis cutting strategies to be applied to the most complex tooling or components. EDGECAM also provides the superior waveform roughing cycle. This toolpath has a faster feed than traditional cycles, due to the variable widths of cut condition when encountering corners and material entry. Our applications of EDGECAM were featured over on the Hexagon site, which you can read more about here. EDGECAM is easy to master, so we introduce our apprentices to it as soon as they start learning CAD/CAM.
SolidCam, produced by SolidWorks, covers up to 5 axis machining and is incredibly versatile. SolidCam's tool path technology is provided with iMachining, which is a major innovation in CNC programming technology. OneCNC is another top quality system that allows us to create extremely intricate components and tools. OnceCNC is compatible with all major industry standard file types, which allows for easy file transfers with clients who use different platforms. OneCNC is designed for CNC lathe integration with functionality to maximise metal removal rates. 
All our CAD/CAM systems allow us to enact precise control over our machining processes, and are incredibly versatile, which is suited to the range of services we offer. We have full technical specifications available for each of our machines, along with a summary of every machine in our workshop available to view online.
Get In Touch
If you wish to learn more about a specific machine or service that we offer, simply drop us an email with any questions or queries that you have.
ankara escort
çankaya escort
ankara escort
çankaya escort
escort ankara
çankaya escort
escort bayan çankaya
istanbul rus escort
eryaman escort
escort bayan ankara
ankara escort
kızılay escort
istanbul escort
ankara escort
ankara rus escort
escort çankaya
ankara escort bayan
istanbul rus Escort
atasehir Escort
beylikduzu Escort
Ankara Escort
malatya Escort
kuşadası Escort
gaziantep Escort
izmir Escort