Here at I&G Engineering, our complete focus is precision. Every aspect of the work we do is geared towards providing a product that exactly meets our clients' requirements. (With 'exact' being the key term.) Our quality control process is not just something we tack onto the end simply because we have to, it embodies our entire manufacturing process, and is something we take great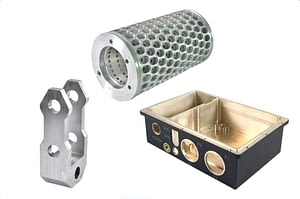 pride in. We have spent the last 40 years refining our production processes through investment in technology and the expertise of our machinists. The result of this is a process that is entirely centred around precision, from receiving customer specifications, throughout production and final quality checks.
We pride ourselves on our commitment to quality and precision, which has led to I&G Precision Engineering becoming one of the most respected manufacturers of machined components in South Wales, serving customers and growing partnerships with organisations all over the UK.
The Importance of Precision
The production of precision components allows no room for error. Even the slightest oversight in measurement when machining a component can have major consequences for those involved, especially in the aerospace industry, oil and gas production and the medical sector. This fact demands a quality control process that is not only rigorous, but versatile. We have built relationships with many high level businesses across a range of sectors, which has led us to create a comprehensive and meticulous QC process that ensures all manufactured components from I&G fulfil the relevant specifications to a precise degree. The backbone of this process is..
Top Quality CAD / CAM Programming
Our CAD / CAM processes are managed by EDGECAM, a Hexagon program that leads the computer aided manufacturing industry. This top quality machining control system gives us an ultra-fine degree of precision and removes the possibility of human error. EDGECAM allows us to run a variety of machining processes across all our CNC machines, and helps us cut cycle times by 40%. EDGECAM is capable of providing far more rigid and precise machining processes than other systems, allowing us to run machining processes overnight, rein back the stopovers and rely on the machining being completed to the exact specifications that we set.

EDGECAM has become such a vital part of our production process that all our engineers are well versed in it, with apprentices being introduced to the system immediately. As part of the training that we provide to our machinists, we give priority to ensuring that all our staff are highly educated in EDGECAM. Computer led skills are embraced by all at I&G Engineering, being a major factor in how we evolve our processes to stay ahead of the curve. The increase in efficiency that EDGECAM gives us has pushed us to reach new levels of productivity as a business, now able to ship between 600 and 700 components each month.

Precision Inspection Processes
Once our components have been created, each one undergoes a high degree of quality checks, spearheaded by our in-house Aberlink Axion CMM. This machine provides dimension reports on all components via a precision coordinate measuring process, managed by a high-spec PC system. These reports give both us and our customers an exact understanding of the dimensions of the components, completing our precision control process.
Our complete dedication to precision starts as soon as we receive the order, and only ends when our customers are happy with the service. Through our QC processes, we guarantee an efficient service that delivers your components on time and on-spec.
Get In Touch
For more information about our services or quality control processes, feel free to get in touch with our team, we're always happy to help.